Central Library
All Pratt buildings are currently closed because of COVID-19, however contactless Sidewalk Services are available at select locations.
×
Public Transportation
Bus
51, 94, Blue, Green, Pink, Silver
Charm City Circulator
Purple - Stops 305 (N. Charles and Pleasant St.) or 306 (N. Charles and Hamilton St.)
See the Circulator's website for other routes, schedules and information.
Light Rail
Centre Street, Lexington Market
Metro Subway
Charles Center, Lexington Market
For more public transportation information, visit the Maryland Transit Administration.
Sidewalk Service is available at this location. Learn more about hours of operation and how to reserve materials.
Please note, the Southeast Anchor Library is the only Pratt Library location being used as a polling location. Other Pratt locations that were used as polling locations in the past will not be used this year. You can find more information about where and how to vote in our 2020 Voting Guide.
Holiday Closing Schedule
×
Holidays & Early Closings
All Pratt Library locations will be closed on the following days:
| | |
| --- | --- |
| Memorial Day | Monday, May 25, 2020 |
| Independence Day (Observed) | Friday, July 3, 2020 |
| Labor Day | Monday, September 7, 2020 |
| Election Day | Tuesday, November 3, 2020 |
| Veterans Day | Wednesday, November 11, 2020 |
| Thanksgiving Day | Thursday, November 26, 2020 |
| Christmas Day | Friday, December 25, 2020 |
| New Year's Day | Friday, January 1, 2021 |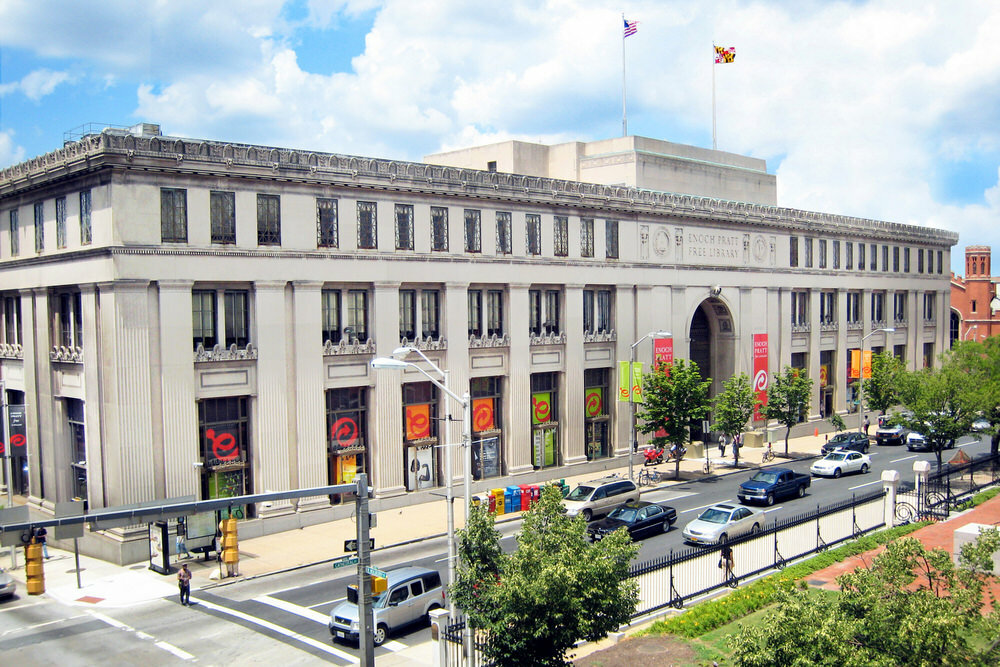 The Central Library is located in the heart of Mount Vernon. With more than half a million visitors each year, the state-of-the-art renovations to the Central Library complement Pratt's significant print collection with the latest technologies, welcoming a vibrant future while preserving a cherished historic landmark.

The Central Library was designated the Maryland State Library Research Center (SLRC) by the General Assembly in 1971. This designation and accompanying State support allow all Maryland citizens to have access to a public library whose resources are unparalleled in the State.
Departments & Collections
Features & Services
Sidewalk Service
State Library Resource Center
ADA/handicap accessible
Metered street parking
Free Wi-Fi
Computers for public use
Photocopier and printing services
Children and Teen sections
Job and Career assistance
Events and programs for all ages
Social Worker in the Library
Lawyer in the Library
Self check-out
Sidewalk Service Available
Schedule a time to pick up library materials or remote printing
Learn More
"The building itself is beautiful. I found more resources than I expected. The staff did not hesitate to help. I love that it's a place where everyone can feel welcome regardless of everyone's differences."
Karla B. — Central Library
"I love having a local library within walking distance. The staff are great and my toddler loves the kids area."
Jane H. — Central Library