Standard Library Card
It's easier than ever to access all that Pratt has to offer without fines. Anyone who lives or owns property in Maryland is eligible for a free Pratt Library card! In addition to checking out books and other materials, your Pratt Library account gives you access to a range of online resources and services.
Apply for a Card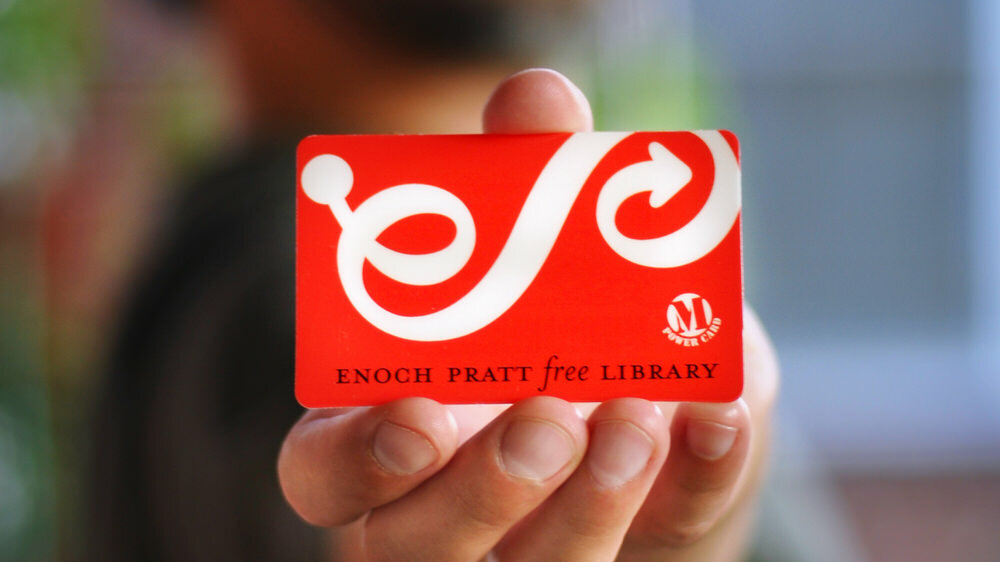 How to Apply
Applying for a Pratt Library card is easier than ever! Print and fill out a Library Card Application form, and bring to any Pratt Library location with proper ID.

In Spanish/en español: Solicitud de una tarjeta de biblioteca, Solicitud de primera tarjeta de biblioteca.
ID and Proof of Address
One of the following photo IDs may be presented without proof of address:
Driver's license
State-issued identification card
City-issued municipal ID
MTA ID
Government-issued ID: Passport, Permanent Resident Card, Military, Department of Corrections, or Certificate of Citizenship/Naturalization
School-issued ID: public school, private school, college or university
Employer-issued ID
Shelter ID
Bank-issued photo ID: credit and debit cards
Students under 18 may present a recent report card or official document from their school to register for a library card if parent or guardian is not present.
Don't have a photo ID? Photo ID is preferred for registration, however applicants who do not have a photo ID may present one item from each of the following categories to get a library card. Both pieces of information must have the applicant's name.
Acceptable non-photo ID:
Birth Certificate
Social Security card
Health Insurance card
Other official document with name
Acceptable piece of proof of address:
Current lease
Change of address card
Most recent utility bill (dated within 60 days)
Piece of mail (postmarked within 60 days)
Letter from a shelter manager (dated within 60 days)
Restrictions
There are no age restrictions for library card applicants. However, parents or guardians must sign library card applications for children under 7. All parents or guardians registering their child must have the child present at the time of the application.
Parents or guardians who register their child for a library card are responsible for materials borrowed by those children, and for monitoring their children's access to Library resources, including the Internet.
Using Your Card
During registration you will select a Personal Identification Number (PIN) for your library card. With this PIN and your library barcode you can review your account activity, renew books and materials, change your PIN, access library databases from home, and download audiobooks and eBooks.
Items eligible for renewal can typically be renewed three times. For a full list of renewal limits, please see the Checkout Limits and Renewals page.
The Pratt Library card may be used at public libraries throughout Maryland. Anyone carrying a valid library card from another public library in Maryland may register that card with the Pratt Library, though additional identification with signature and address is required.
Keeping Your Card Updated
The Pratt Library card is permanent. The cardholder's name and address must be verified every two years in person. Cardholders with Firm, Non-Resident, and Teacher cards must renew their cards annually.
If you change your name, address, or telephone number, come to the Library in person to update your record. You may update your email address or phone number online under Change My Contact Information.

If your library card is lost or stolen, please notify the Library immediately or within 48 hours at (410) 396-5325 or crc@prattlibrary.org. The cardholder is responsible for any items borrowed until the loss of the card is reported.
Questions?
If you don't find what you need using the links above, please contact your local branch, or the Circulation Department at (410) 396-5325 or crc@prattlibrary.org.