Mencken's Personal Library & Family Collection
Mencken Family Collection
This collection holds materials related to the Mencken family including books, memorabilia, family and genealogical documents, and an extensive photographic record of his life. The collection preserves family and business documents, such as he records of his father's tobacco firm, family pictures, including several valuable portfolios of Mencken portraits and personal photos, and scrapbooks made by Mencken (particularly his Souvenirs of Childhood and Schooldays, 1880-1896), his wife Sara, and his brother August and his family.
The Family collection also contains copies of books authored by members of the Mencken family, from the works of German scholars of the 17th and 18th centuries to members of Mencken's immediate family.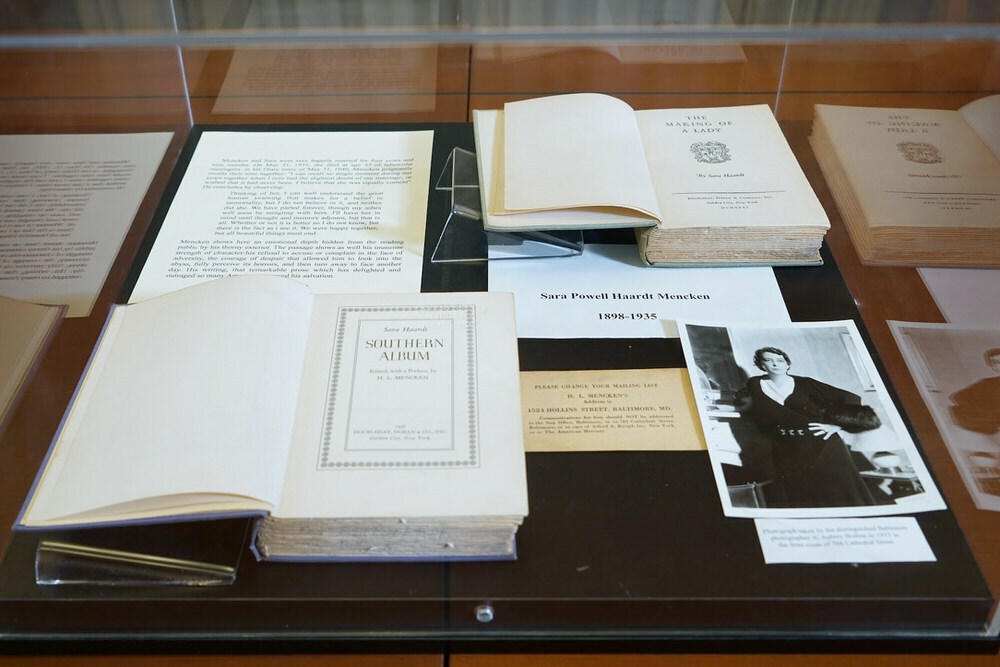 Mencken's Personal Library
Mencken was among the most well-known and powerful literary critics of his day and he built a large personal library. As a critic Mencken championed the likes of Theodore Dreiser and F. Scott Fitzgerald, and among the collection's many treasures are presentation copies inscribed to Mencken and signed by many authors, including Fitzgerald's The Great Gatsby and Dreiser's An American Tragedy.
Many volumes contained lively and highly personal inscriptions which, together with other letters of literary correspondence Mencken attached to individual volumes, have been removed for safety and preservation. The collection also contains copies of books, pamphlets, and various biographical and critical works about Mencken's life and work. These volumes were purchased by the library after his death. The collection continues to grow as more is written about H.L. Mencken. Access to these collections is available in the Mencken Room. If you have additional questions, call (410) 396-5547 to reach the curator of the Mencken Collection.