Passport Services
For the safety of our customers, this service is currently unavailable. Read more about our available COVID-19 services and resources.
Need to apply for a passport? The Central Library is a Passport Acceptance Facility, and accepts passport applications on behalf of the U.S. State Department. Visit the Passport Office to apply for a passport book or card, or to take a color passport photo.
Passport Office Hours of Operation
Monday - Thursday: 10 am – 6 pm
Friday - Saturday: 10 am – 4 pm
Sunday (appointment only): 1 pm – 4 pm
No appointments are necessary Monday - Saturday, and wait times should be anticipated. Contact the Passport Office at (410) 369-5460 to make a Sunday appointments or for more information.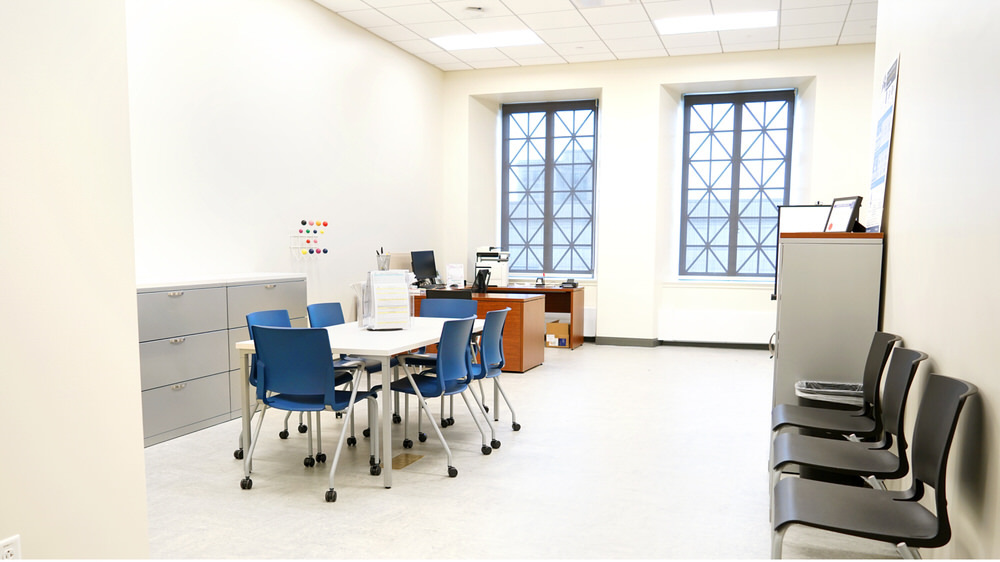 Fees
To submit a passport application, you will need to pay both a Department of State fee and a Enoch Free Pratt Library fee.
Department of State
The U.S. Department of State only accepts checks or money orders. Please make payable to: U.S. Department of State.
| | |
| --- | --- |
| PRODUCT | COST (not including Library processing fees) |
| Passport Book (age 16 and over) | $110 |
| Passport Book (age 15 and under) | $80 |
| Passport Card (age 16 and over) | $30 |
| Passport Card (age 15 and under) | $15 |
| Passport Book + Card (age 16 and over) | $140 |
| Passport Book + Card (age 15 and under) | $95 |
| Expedited Service (per application) | $60 |
| 1-2 Day Delivery (return delivery only from the State Department) | $16.48 |
The average wait time for a passport is 6–8 weeks, 2–3 weeks with expedited service.
Library Fees
$35 execution fee per application
$15 color passport photo
Fees can be paid with cash, check, credit card, or money order. Please make payable to: Enoch Pratt Free Library. Enoch Pratt Free Library's returned check fee is $15 plus the amount of the original check. All fees are non-refundable. Please note that Execution fees are the same at all Passport Acceptance Facilities.
What to Bring
All applicants, including children, must be present.
Children aged 0 – 15 must have both parents present. Form DS-3053 must be notarized prior to your visit if a parent on the birth certificate is unable to be present, along with a photocopy of the back and front of the non-appearing parent's valid photo identification. Form DS-5525 can be filled out if you have special family circumstances. Young adults aged 16–17 only need one parent present.
Please be sure to have the following when coming to the library.
Separate payments for the U.S. State Department and Enoch Pratt Free Library.
Proof of citizenship (original, not photocopy):

Birth certificate
Naturalization certificate
Previous U.S. passport
Permanent resident card (required for the child of a naturalized parent)

Photo identification (e.g. state-issued Driver's License or Photo ID card) for applicants 16 and older.
A completed (unsigned) form (DS-11) filled out in black ink. This form may also be picked up and filled out at the library.
One 2" x 2" passport photo with a white background (can be taken at the library for a $15 fee).
If you feel you have a special or unique circumstance, please call (410) 369-5460 to confirm the documents required for your application.
Application Status and Questions
The status of your application should be available online 7-10 days after applying. Visit www.travel.state.gov or call the National Passport Information Center (NPIC) 1-877-487-2778 / 1-888-874-7793 (TDD/TTY) for more information regarding your completed passport application.
If you received a letter in the mail from the State Department with a request for more information, please review the letter and contact the listed phone number with any additional questions. Due to privacy the library cannot contact the State Department on your behalf.
Please contact The National Passport Information Center with any questions about the status of your application or if you have a travel emergency.