Authors, speakers, and musicians, recorded live at the Pratt.
Subscribe to the Series
From the Archives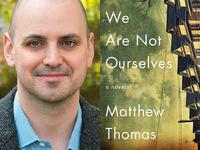 Matthew Thomas, We Are Not Ourselves
Writers LIVE @ the Library
Upcoming events:
Writers LIVE! Clifford Thompson, What It Is: Race, Family, and One Thinking Black Man's Blues

Thursday, January 23, 7:00 p.m.

Writers LIVE! Caitlin Doughty, Will My Cat Eat My Eyeballs?: Big Questions from Tiny Mortals About Death

Wednesday, February 5, 7:00 p.m.

Writers LIVE! Dr. Neal Barnard, Your Body in Balance: The New Science of Food, Hormones, and Health

Thursday, February 6, 6:30 p.m.
more Writers LIVE
more Events @ Pratt
Podcast transcripts are available upon request. Please email: transcripts@prattlibrary.org