SHAN Wallace
SHAN Wallace uses photography and collage to explore and contribute to Baltimore's ongoing Black history. SHAN is an artist in residence in the Baltimore Living Archives, a program that invites Baltimoreans to craft and showcase media-based stories.
More About the Artist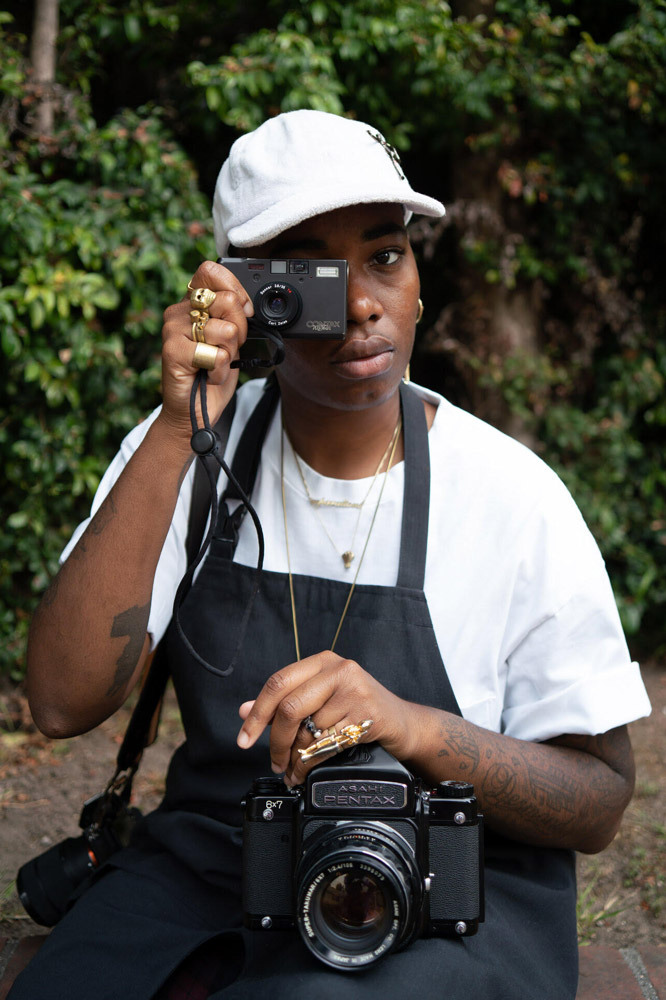 SHAN Wallace (b. 1991) is a nomadic award-winning visual artist, photographer, and educator from East Baltimore, MD. Inspired by the nuances of day-to-day life of her surroundings in Baltimore, not as fixed narratives but a multiplicity of experiences. It was in Baltimore where she learned about the importance of service, the power of collaboration and the effects of social change. SHAN has received recognition from publications like the Baltimore Beat for 'Best Solo Show', the City Paper for 'Best Photographer', and the Association of Health Care Journalists' awarded her '2nd Place — Small Outlet Feature' for her photojournalism piece "Losing Conner's Mind" in the Atavist Magazine. SHAN's work is in both public and private collections across the US including Baltimore Museum of Art, Reginald F. Lewis Art Museum, the New Gallery of Modern Art and more.
"To be an artist in residence is a dream. Growing up in Baltimore, the Enoch Pratt Library was a place of study and almost like a second home. I'm looking forward to studying the Enoch's archive, learning more about Maryland's history, and discovering different ways of archiving.
During this residency, visitors and community members can expect for me to care with Baltimore's history with attentiveness. I'm looking forward to building a portrait archive and learning ways to continue to archive Baltimore's history.
I hope to ensure Baltimore's history is here and accessible."
Office Hours & Contact
---
Programs with SHAN Wallace
The Lesbian Section
Second & Fourth Wednesdays, 11 am – 5 pm at Central Library
Help preserve Baltimore's Lesbian history. Lesbian communities are invited to bring personal photographs and media for submissions that will be scanned or copied and archived during the residency. Community members can also participate in the oral history component, a one to two hour interview on various topics. The purpose of this program is to document personal histories, perspectives, and experiences. Interview will take place at SHAN's library office and may include a photo session as well. Sign up to make an appointment during office hours.
Participate in the Program
Our City
First & Third Wednesdays, 11:00 am – 5:00 pm at Central Library
Be a part of history and help paint a more colorful and dynamic portrait of Baltimore by telling your story and submitting your photos!
Participate in the Program
Collage & Conversation
June 11, 12 pm at Central Library, Central Hall
SHAN will be sharing and discussing her work with photographic collage and thoughts about creativity, career, community, and her social activism stemming from a childhood in East Baltimore. While you're here, try your hand at making collage art.
---
View All Programs with SHAN Wallace