Public Computer Center
For the safety of our customers, this service is currently unavailable. Read more about our available COVID-19 services and resources.
Located in the Central Library, the Public Computer Center has 32 computers available for research, finding jobs, creating resumes, completing school assignments and much more!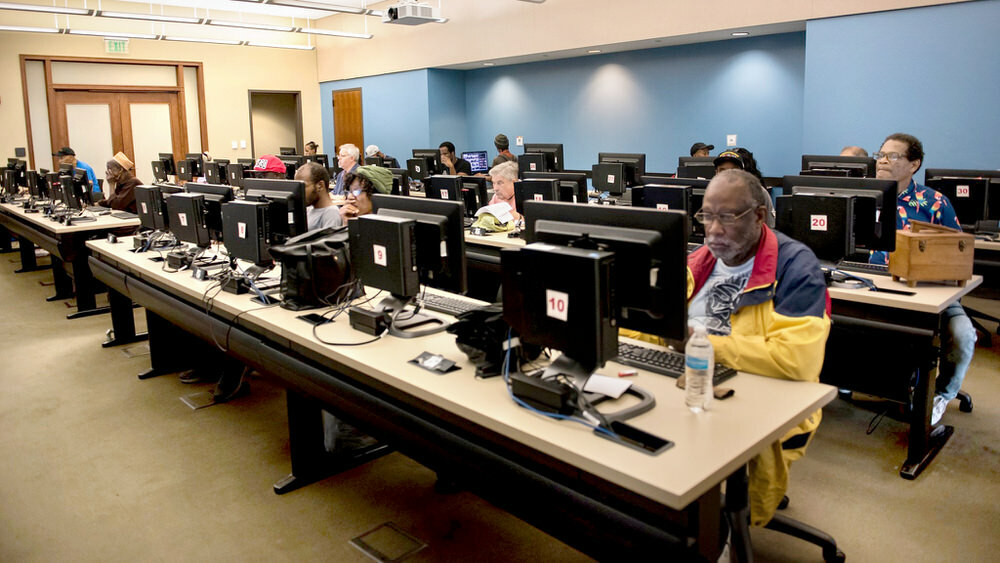 Technology
All 32 computers are running the Windows 10 operating system. One of the computers is wheelchair accessible, and may be reserved in advance. The wheelchair accessible workstation is available for up to four (4) hours to people who are in a wheelchair.
All computers stations are equipped with ZoomText software, a program that magnifies the screen image and has a voice component so that the page can be read aloud. All computers have Microsoft Office 2010, including Word, Excel, PowerPoint, Access, and Publisher. If you wish to practice typing, a staff member can help you find instructional websites.
Printing is available for your documents, and there is also a machine for adding money to your account for additional printing needs. Customers may have their documents read aloud using the SARA device. Also available is a device called Optelec Clearview which will enlarge hardcopies of any article, book, or document onto a screen for you to read. If you need to get a hardcopy of your document onto your flash drive or email, we have a scanner available for public use. Staff are available to help with any questions you have.
Guidelines
People of all ages use the Public Computer Center for education, personal research, job searching, apartment hunting, and more. Guidelines have been established to ensure that you have a safe and productive experience.
You can reserve a two or four hour computer up to one week in advance. Reservations can be made by phone at (410) 545-6319 or in person at the Public Computer Center. As a courtesy to our customers, we will hold a reservation for 15 minutes before it is released to the next customer. Internet use in the Public Computer Center is guided by the Library's Internet policy.
Computer Classes
Computer classes are offered in the Public Computer Center, including beginning computer classes as well as classes on Microsoft Office and using the Internet. Staff can also introduce you to self paced online courses that are available at any time.

Browse Computer Classes