Writers LIVE: Michael J. Lisicky, Baltimore Symphony Orchestra: A Century of Sound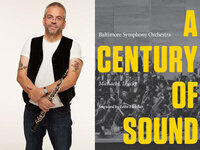 The Baltimore Symphony's oboist Michael Lisicky chronicles the first 100 years of the orchestra from its humble beginning as the nation's only municipally-funded symphony to its present status as one of the country's greatest orchestras. The book features more than 200 photographs, interviews with past and present musical luminaries, and an introduction by pianist Leon Fleisher.
Michael Lisicky is the author of several bestselling books, including Hutzler's: Where Baltimore Shops; Remembering Moos Brothers; and Baltimore's Bygone Department Stores: Many Happy Returns.
Recorded On: Wednesday, March 9, 2016