Writers LIVE: A. L. Herbert, Murder with Fried Chicken and Waffles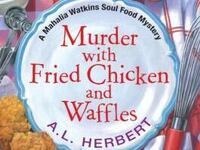 Welcome to Mahalia's Sweet Tea, the finest soul food restaurant in Prince George's County, Maryland. Halia Watkins has her hands full cooking, hosting and keeping her boisterous young cousin, Wavonne, from getting too sassy with customers. One customer, the fast-talking entrepreneur Marcus Rand, is annoying enough when he's alive – but finding him dead on her ceramic tile floor after hours is much worse.
A. L Herbert grew up in Prince George's County and Charles County. This is his debut novel, the first in the Mahalia Watkins Soul Food Mystery series.
Recorded On: Tuesday, June 23, 2015