City and Country: Why the Setting Matters in Traditional Mysteries -- A Conversation with Sheila Connolly and Sandra Parshall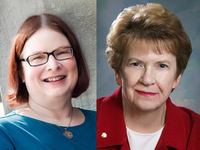 Sheila Connolly is the New York Times bestselling author of three cozy mystery series. Her Museum Mysteries are set in Philadelphia and the Orchard Mysteries in small town Massachusetts. Scandal in Skibbereen is the second in her Ireland-based County Cork Mysteries.
Sandra Parshall writes the Rachel Goddard mysteries, set in Virginia. The first in the series, The Heat of the Moon, won the Agatha Award for Best First Novel of 2006. Her latest book is Poisoned Ground.
Recorded On: Tuesday, June 10, 2014