Writers LIVE: James Kilgore, Understanding Mass Incarceration: A People's Guide to the Key Civil Rights Struggle of Our Time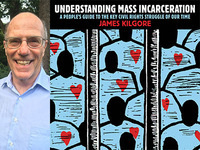 Understanding Mass Incarceration describes in plain English the many competing theories of criminal justice -- from rehabilitation to retribution, from restorative justice to justice reinvestment. Author James Kilgore illuminates the difference between prisons and jails, probation and parole, laying out key concepts and policies such as the War on Drugs, broken-windows policing, three-strikes sentencing, the school-to-prison pipeline, recidivism, and prison privatization. He also addresses the rapidly increasing incarceration of women, Latinos and transgender people; the growing imprisonment of immigrants; and the devastating impact of mass incarceration on communities.
James Kilgore is a writer, educator and social justice activist who teaches and works at the University of Illinois. He spent six years in prison, during which time he drafted his three published novels.
Recorded On: Tuesday, November 17, 2015