Poetry & Conversation: Grace Cavalieri & Richard Harteis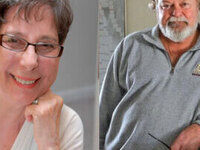 Grace Cavalieri's forthcoming book is Other Voices, Other Lives (Oct 2017.) She's the founder/producer of Public Radio's "The Poet and the Poem" now from the Library of Congress.  She celebrates 40 years on-air and is a CPB silver medalist. She co-founded Pacifica's newest station, WPFW-FM, in 1977. Then was Asst. Director of Children's Programming for PBS; and after, headed Children's Programming for NEH. In 2015 Grace received the inaugural Lifetime Achievement Award from the Washington Independent Review of Books, where she's monthly columnist and poetry reviewer. She holds the Association Writing Program's "George Garrett Award" for Service to Literature.  She's twice the recipient of the Allen Ginsberg Award and, holds the Bordighera Poetry Prize, a Paterson Poetry Award, The Columbia Award, and "The National Commission on Working Women." A recent poetry book Water on the Sun, is on the Pen American Center's "Best Books" list. Her latest play is "Calico and Lennie" (Theater for the New City, NYC, 2017.) Her latest book is With (2016, Somondoco Press) about her recent loss, husband (former Naval Aviator) Metal Sculptor, Kenneth Flynn. They have four children, four grandchildren and one great grandchild.  
Since 2007, Richard Harteis has worked as the president of the William Meredith Foundation, an organization dedicated to preserving the legacy of the late US Poet Laureate and his partner of 36 years. Harteis served for two years as a Peace Corps volunteer in Tunisia, worked as a physician assistant in North Africa and Asia and spent a Fulbright year as writer-in-residence at the American University in Bulgaria. For his work in the culture, he was accorded Bulgarian citizenship by decree of the President and Parliament in 1996. Harteis has taught literature and creative writing at a number of institutions over the years including The Catholic University of America, Creighton University, Mt. Vernon College, and Connecticut College. For two years he directed the PEN Syndicated Fiction Project and created the NPR radio program The Sound of Writing serving as writer/director and host. He has received honors and awards for his work including fellowships from the National Endowment for the Arts, the D.C. Commission on the Arts, and the Ford Foundation. Reunion is his fifteenth book.
Recorded On: Thursday, September 14, 2017