Writers LIVE: Joan Quigley, Just Another Southern Town: Mary Church Terrell and the Struggle for Racial Justice in the Nation's Capital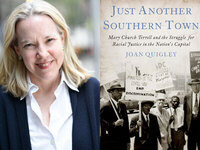 In Just Another Southern Town, Joan Quigley recounts an untold chapter of the civil rights movement: an epic battle to topple segregation in Washington. At the book's heart is the formidable Mary Church Terrell, in 1950 an 86-year-old charter member of the NAACP and former suffragette, and the test case she mounts seeking to enforce Reconstruction-era laws prohibiting segregation in D.C. restaurants. Through the prism of Terrell's story, Quigley reassesses Washington's relationship to civil rights history, bringing to life a pivotal fight for equality that erupted five years before Rosa Parks refused to move to the back of a Montgomery bus and a decade before the student sit-in movement rocked segregated lunch counters across the South.
Joan Quigley is an attorney and journalist. She is also the author of The Day The Earth Caved In: An American Mining Tragedy (Random House 2007). She received the 2005 J. Anthony Lukas Work-in-Progress Award, administered by Columbia University Graduate School of Journalism and the Nieman Foundation at Harvard. A graduate of Princeton, William & Mary Law School and Columbia Journalism School, her writing has appeared in TheWashington Post, time.com, nationalgeographic.com and TheDaily Beast.
Recorded On: Tuesday, July 12, 2016