An Evening with Cal Ripken, Jr.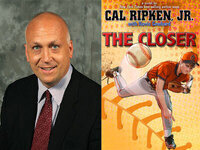 In this family program, Cal Ripken, Jr. talks about his new book, The Closer, with Kevin Cowherd and John Maroon. In The Closer, the sixth book in Cal Ripken, Jr.'s All Stars series, Danny Connell, the Dulaney Orioles back-up pitcher, must step up to the plate and out of his brother's shadow to become the dependable closer his team needs.
Cal Ripken, Jr. was a shortstop and third baseman for the Baltimore Orioles for his entire career (1981-2001). Nicknamed "The Iron Man," Ripken is most remembered for playing a record 2,632 straight games over 17 seasons, shattering the record previously held by Lou Gehrig. He was a 19-time All Star and, in 2007, he was inducted into the National Baseball Hall of Fame. Mr. Ripken is CEO of Ripken Baseball, Inc. and the Cal Ripken, Sr. Foundation.
Recorded On: Monday, March 7, 2016