Jim Ziolkowski, Walk in Their Shoes: Can One Person Change the World?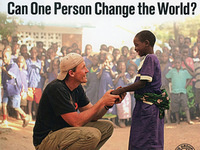 Twenty-one years ago, Jim Ziolkowski gave up a fast-track career in corporate finance to dedicate his life to buildOn, an organization that turns inner-city teens into community leaders at home and abroad. Walk in Their Shoes tells the story of Jim's movement and the thousands of young people who have decided to step forward and make a difference.
The students of buildOn have contributed more than 1.2 million hours of service, from Detroit and the South Bronx to Haiti, Mali, and Nepal, while building more than 550 schools worldwide. Together they are breaking the cycle of poverty, illiteracy, and low expectations in their own lives and transforming their communities.
Recorded On: Tuesday, July 8, 2014