Gary Shteyngart, Little Failure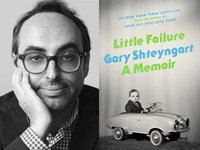 Born in Leningrad in 1972, Gary Shteyngart came to the U.S. seven years later. His loving but mismatched parents dreamed that he would become a lawyer or Wall Street player, something their curious, diminutive, distracted son was not cut out to do. Shteyngart shares his American immigrant experience with self-deprecating humor and moving insights in Little Failure.
Gary Shteyngart is the award-winning author of Absurdistan (selected as one of the 10 best books of the year by the New York Times Book Review and Time) and The Russian Debutante's Handbook, winner of the Stephen Crane Award for First Fiction and the National Jewish Book Award for Fiction.
Recorded On: Friday, October 24, 2014