Edward J. Larson, The Return of George Washington, 1783-1789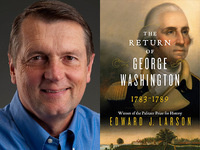 Pulitzer Prize-winning historian Edward J. Larson recovers a crucially important -- yet almost always overlooked -- chapter of George Washington's life, revealing how Washington saved the United States by coming out of retirement to lead the Constitutional Convention and serve as our first president.
Larson is university professor of history and holds the Hugh & Hazel Darling Chair in Law at Pepperdine University. His numerous books include Summer for the Gods: The Scopes Trial and America's Continuing Debate over Science and Religion, for which he received a Pulitzer Prize in History.
Recorded On: Wednesday, November 12, 2014