Kevin Shird: Lessons of Redemption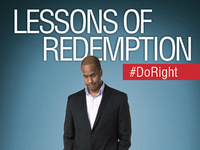 In Lessons of Redemption, Kevin Shird, co-founder and president of the Mario Do Right Foundation, tells his life story, from the tough streets of Baltimore City, through several years in federal prison, to rebirth as a community leader championing substance abuse prevention and helping children of addicted parents.
"I want people to know that you don't have to be defined by your mistakes," says Shird. "You can turn your life around and become a positive member in society. I did."
Recorded On: Wednesday, July 23, 2014