Adult Summer Reading Kickoff: Literary Elements -- An Evening with Three Maryland Writers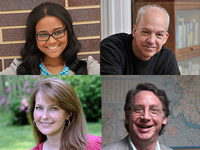 Three bestselling Maryland writers – Sheri Booker (Nine Years Under: Coming of Age in an Inner City Funeral Home), Dan Fesperman (The Double Game), and Sarah Pekkanen (Catching Air) – talk about their books and the writing life with Tom Hall of WYPR's "Maryland Morning."
Sheri Booker, teacher at Baltimore Leadership School for Young Women is the 2014 winner of the NAACP Image Award for outstanding literary work by a debut author for her memoir, Nine Years Under: Coming of Age in an Inner City Funeral Home.
Award winning local author and former Baltimore Sun writer Dan Fesperman's travels as a writer have taken him to thirty countries, three war zones and have proved great material for his many novels, including The Double Game, now available in paperback.
Bethesda Magazine columnist and former Baltimore Sun writer Sarah Pekkanen's fifth novel, Catching Air, has just been published by Simon and Schuster. 
Recorded On: Tuesday, June 17, 2014