Jess Row: Your Face in Mine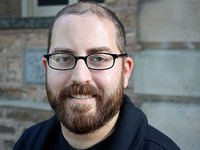 Not long after moving back to his hometown of Baltimore, Kelly Thorndike meets an old friend from high school who has had "racial reassignment surgery." Once a skinny, white Jewish kid, Martin has altered his hair, skin and physiognomy to allow him to pass as African American. He wants Kelly to help him sell racial reassignment surgery to the world. Kelly agrees and soon things begin to spiral out of control.
Jess Row is the author of the story collections The Train to Lo Wu and Nobody Ever Gets Lost. His stories have been anthologized three times in The Best American Short Stories and have won two Pushcart Prizes and a PEN/O. Henry Award.  In 2007 he was named a "Best Young American Novelist" by Granta.
Recorded On: Wednesday, August 20, 2014