An Afternoon of Poetry: Readings by Tim Seibles and Cave Canem Poets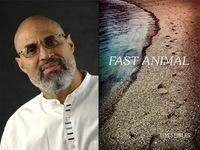 This annual Cave Canem poetry reading at the Pratt features Tim Seibles and Cave Canem fellows from the Baltimore-Washington area. Hosted by Reginald Harris of Poets House.
Tim Seibles is the author of several collections of poetry, including Body Moves (1988), Hurdy-Gurdy (1992), Hammerlock (1999), Buffalo Head Solos (2004), and Fast Animal (2012), which won the Theodore Roethke Memorial Poetry Prize and was nominated for a 2012 National Book Award. Seibles' honors include fellowships from the National Endowment for the Arts and the Provincetown Fine Arts Work Center, as well as an Open Voice Award from the National Writers Voice Project. In 2013 he received the PEN Oakland Josephine Miles Award for poetry.
Recorded On: Sunday, December 7, 2014