Writers LIVE: Kristi M. Fondren, Walking on the Wild Side: Long-Distance Hiking on the Appalachian Trail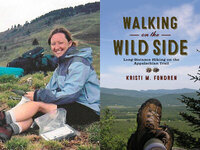 The most famous long-distance hiking trail in North America, the 2,181-mile Appalachian Trail -- the longest hiking-only footpath in the world -- runs along the Appalachian mountain range from Georgia to Maine. Every year about 2,000 individuals attempt to "thru-hike" the entire trail. In Walking on the Wild Side, sociologist Kristi M. Fondren traces the stories of 46 men and women who, for their own personal reasons, set out to conquer America's most well-known long-distance hiking trail.
Kristi M. Fondren is an associate professor of sociology at Marshall University, Huntington, West Virginia.
Recorded On: Tuesday, March 22, 2016