Meg Wolitzer, The Interestings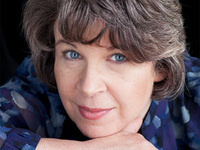 Meg Wolitzer's new book, The Interestings, was named a "best book of 2013" by Entertainment Weekly, Time, and the Chicago Tribune. In 1974 six teenagers at a summer arts camp become inseparable, and they remain friends over the decades in a changing New York City. Through these six complex characters, Wolitzer explores the meaning of talent and the roles that art, class, money, and even envy play in the course of friendships.
Meg Wolitzer is the author of eight previous novels, including The Uncoupling and The Ten-Year Nap. She teaches in the MFA program at Stony Brook Southampton.
Recorded On: Wednesday, April 2, 2014